Life is Good.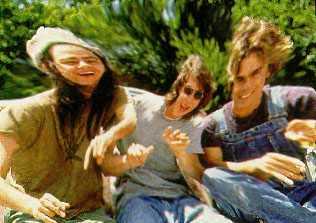 "I live for the nights I won't remember, with the friends i'll never forget"
- i dont know
"Don't be too timid and squeamish about your actions. All life is an experiment. The more experiemnts you do, the better."
-Ralph Waldo Emerson
"What is a weed? A plant whose virtues have not yet been discovered"
- Ralph Waldo Emerson
"Do not go where the path may lead, go instead where there is no path and leave a trail."
-Ralph Waldo Emerson
"Don't waste yourself in rejection, nor bark against the bad, but chant the beauty of the good."
- Ralph Waldo Emerson
It was a high counsel that I once heard given to a young person, "Always do what you are afraid to do."
- Ralph Waldo Emerson


"Nothing means anything and everything is made up."
- Dave Matthews
"There is a road, no simple highway, between the dawn and the dark of night, and if you go, no one may follow; that path is for your steps alone"
- Jerry Garcia
"Don't be a fool wrap your tool"
"Its not what your college can do for you, but what you can do for your college"
- Van Wilder