There are currently 2 Gun Packages and 2 items for sale below.
Money orders ONLY! PERIOD!
Tokyo Marui M4-A1 RIS Package (Custom/Not standard RIS construction).
Includes:
-TM M4-A1 RIS
-vertical grip
-3 RIS Rail panels
-battery box AN-PAC4
-side sling swivel
*All magazines have paracord mag pulls installed
-1 TM standard 68rd magazine
-2 CA standard 68rd magazines
-3 G&P standard hi-cap 130rd magazines
-CA Reciever pins(plus the old standard pins)
-rear sight(cut-carrying handle)
-Guarder Aimpoint replica w/ cantilever mount(plus caps and batteries)
-8.4v 600mAh battery
-Newstar Ni-Cd Super Fast Charger w/ mini adapter
-Discharger(homemade but it works!)
-Large guncase

I am asking $300-350 for this package + S&H(UPS)
Problems
The reciever loop inside the reciever is cracked. This is not noticable and can be replaced easily.
The RIS was installed by me. Originally the gun was a M4-A1, but I decided to uprgrade to an RIS. I purchased the RIS from a friend and installed it, but I didnt not install the barrel with the mounts to attach the RIS to it. Even without the attachments, the RIS is still solid and works perfectly.
Email me at
cwest343@yahoo.com
or contact me on AOL IM -
spaceuface420
or
dmb3442
if you are interested.
Pictures: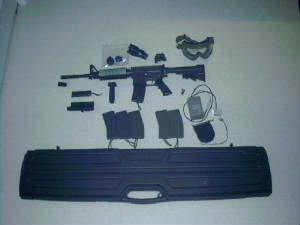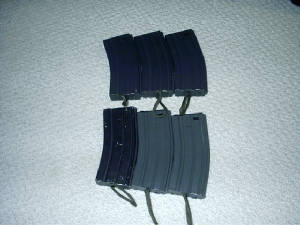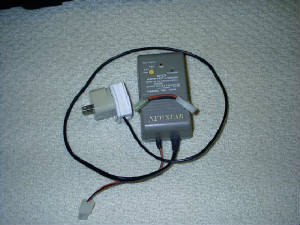 ------------------------------------------------------------------------
Tokyo Marui M4-RIS Package SALE PENDING
I have a TM M4RIS for sale. It comes with 3 G&Ps, C.Q.B. HRT 1point sling(black), G&P metal replica KAC Flashlight mount, rear flip up sight, full metal G&P aimpoint with rubber flip up scope covers and metal mount, CA metal reciever pins, replica PEQ which comes with a mini battery, and a slow charger. The gun has only been through 2-3 mags of TM .25 bbs. It comes with the original box it came with, papers/instructions, and loading rod. I am asking for around 300, if you have a decent payment then I will sell it for that but no less then 250. And I only want serious buyers to respond, thankyou.
------------------------------------------------------------------------
Blackhawk Industries S.T.R.I.K.E. Recon Vest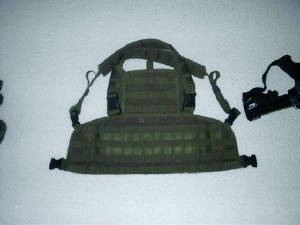 -Olive color
-Newer version
-HARDLY EVER BEEN USED! Still looks new! Great condition
-Price: $60 (I purchased it for $85) + S&H(UPS)
------------------------------------------------------------------------
Blackhawk Industries Hell Storm knee pads
(Pic Coming Soon!)